IESIG FLE - French courses in Paris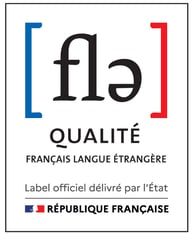 Please note that first of all, you must have your language level assessed. Depending on your level, you will be assigned to a class.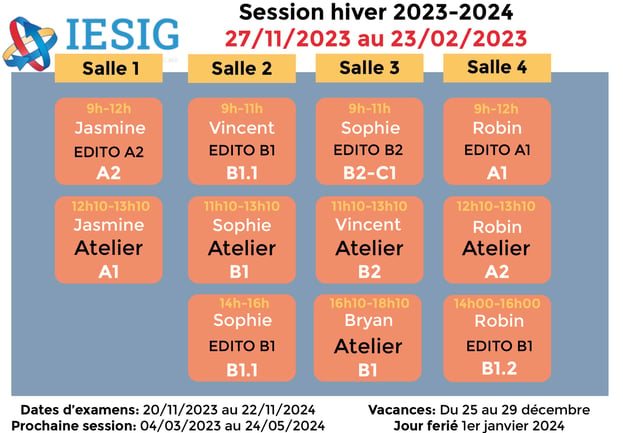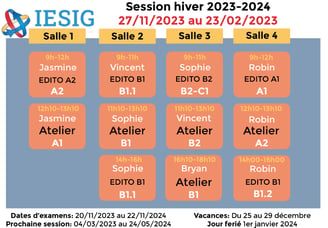 Welcome to the exciting world of language learning at our renowned school! At IESIG-FLE, we firmly believe that the key to success in learning a new language lies in careful planning and effective time management. That's why we provide you with a detailed course timetable, designed to help you chart your course towards linguistic excellence.
The importance of knowing your course timetable
Your time is precious, and we understand that. Mastering a new language requires regular and sustained commitment. By knowing your course dates, sessions and key events in advance, you can :
Plan ahead: Our course calendar allows you to plan your days and weeks in advance, helping you to balance your personal and professional activities with your language course.
Avoid conflicts: By knowing the dates of courses and sessions, you can avoid timetable conflicts and maximise your presence in class.
Maintain consistency: Regularity is essential in language learning. Thanks to our calendar, you can maintain consistent practice, which reinforces your progress.
Prepare your materials: With a clear vision of the topics to be covered, you can prepare yourself with the materials you need, making the most of each session.
Navigate easily through your calendar
Our user-friendly course calendar is easily accessible online. You'll find accurate, up-to-date information on :
Course dates: never miss a session thanks to a clear list of dates and times for each course.
Sessions: special sessions, workshops and not-to-be-missed events are also listed to enrich your experience.
Classrooms: the locations of our classrooms are carefully listed so you can reach each lesson with confidence.
Deadlines and exams: stay one step ahead of assignment deadlines and exam dates for optimum preparation.
Your success is our goal
At IESIG-FLE, we believe that every step of your language journey is crucial. By providing you with transparent access to our course calendar, we want to help you focus on learning without the administrative hassle.
We are delighted to accompany you on your quest for linguistic excellence. Explore your course calendar, prepare for success and dive into the rewarding adventure of language learning with IESIG-FLE!
We are here to guide you every step of the way.
Yours truly