IESIG FLE - French courses in Paris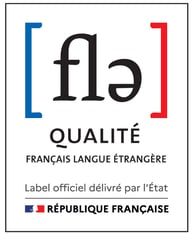 Cultural and pedagogical outings are essential components of the learning process when studying French in Paris. These experiences provide students with the opportunity to not only enhance their language skills, but also to immerse themselves in the culture of the language they are studying.
By participating in cultural outings such as visiting museums, art galleries, historical monuments and attending theatrical performances, students are exposed to the history, art and literature of France. This provides them with a deeper understanding of the language and helps to contextualize the lessons learned in the classroom.
Pedagogical outings such as language exchange programs and conversation groups provide students with the chance to practice their language skills in real-life situations with native speakers. This not only improves their language proficiency, but also boosts their confidence in using the language in social settings.
In addition, these outings also allow students to experience the daily life of Parisians and immerse themselves in the local culture. They can try the local cuisine, participate in traditional celebrations, and explore the city's vibrant neighborhoods. This not only enhances their language skills but also helps them to develop a deeper appreciation for French culture.
At least once a session, everyone is invited to visit the most important places in the French capital or more unusual places.
For example, the year 2022 was rich in outings. Our students were able to admire Paris on a bateau-mouche or take a guided tour of the EDF foundation. We also went to Montmartre to celebrate the end of the grape harvest and later to visit the Christmas market. Finally, we became knowledgeable about the city of Paris by visiting the Carnavalet museum before getting lost in the passages of the 9th arrondissement.
Everyone is welcome and financial participation is sometimes requested.
We also organize cultural outings with our students
A Memorable Cultural Excursion to the Marais Quarter and the Carnavalet Museum
Outing date: Friday 20 October 2023
The cobbled lanes of Paris's Marais district resounded with laughter and lively discussion recently, as students embarked on an unforgettable cultural excursion. Their destination? The Musée Carnavalet, an iconic city landmark dedicated to the history of Paris. This outing was the perfect opportunity for them to learn more about the rich history of the City of Light, while perfecting their command of the French language.
Discovering the Marais district
The day began with an exploration of the Marais district, a picturesque and historic part of Paris. The students were able to discover the beauty of the medieval architecture, the narrow streets and charming squares for which the district is famous. Our teachers shared anecdotes about the history of the area, including its role during the French Revolution, a crucial period in French history.
Exploring the Musée Carnavalet
After this immersion in the Marais, the students headed for the Musée Carnavalet. This museum is a real treasure trove for anyone interested in the history of Paris. It traces the development of the city from its origins to the present day. The students had the opportunity to plunge into Paris' fascinating past, with exhibitions highlighting key events such as the French Revolution. Educational activities were part of the programme, allowing students to practise their language skills while exploring the exhibitions. They had to answer questions, take part in discussions and write short essays in French about what they had learned. This interactive approach enabled the students to gain a deeper understanding of the city's history, while strengthening their command of the language.
Enriching feedback
Back at school, the students had the opportunity to share their discoveries with their classmates during a class presentation. They presented what they had learned about the French Revolution, old shop signs and the highlights of their cultural excursion. The presentation was a valuable opportunity for the students to consolidate their communication skills in French.
Next session, next outing!
This cultural excursion to the Marais district and the Musée Carnavalet was a resounding success. Our students not only enriched their knowledge of the French language, but also immersed themselves in the captivating history of Paris. The excitement is palpable for our next session, which promises to hold even more exciting discoveries and learning. Stay tuned for more information on our next educational adventures in French language and culture!

Every month, our pedagogical department organizes a practical workshop: the Francophonie, civilization, cinema, literature, almost everything is covered! It's an opportunity for everyone to spend time with other students in another context and produce something that will be proudly preserved. For instance, this year the students will create film posters, Breton pancakes, will participate in a debate competition...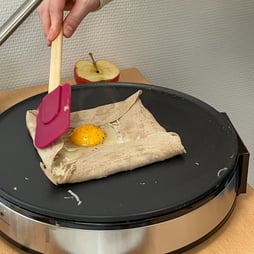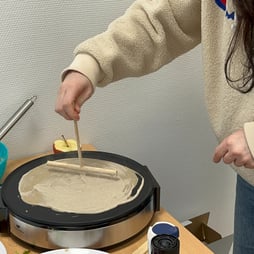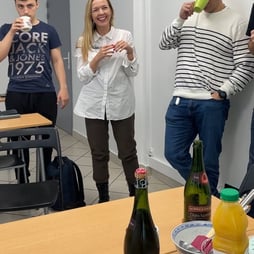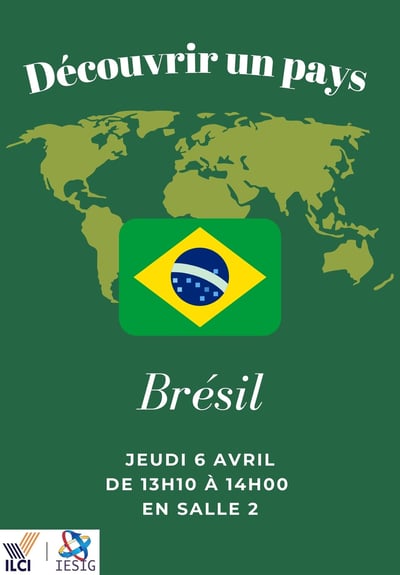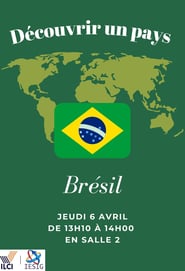 Intercultural workshops are a great way to broaden your horizons and expand your understanding of different cultures. They offer an opportunity for individuals to engage with people from diverse backgrounds and learn about their customs, traditions, and beliefs. This is especially important in today's globalized world where we interact with people from different cultures on a daily basis.
If you are a non-native French speaker looking to improve your language skills and gain a better understanding of French culture, then intercultural workshops are the perfect way to do so. These workshops provide a safe and supportive environment for individuals to engage in meaningful discussions, learn new vocabulary, practice their language skills and have a taste of local food with native speakers.
One of the main benefits of intercultural workshops is that they promote cultural awareness and sensitivity. By learning about different cultures, individuals can gain a better understanding of the customs and practices of those around them. This can help to reduce misunderstandings and promote tolerance and respect for diversity.
Intercultural workshops are also a great way to improve your language skills. By engaging in conversations with native speakers and other learners, you can learn new vocabulary and improve your pronunciation and grammar. This is especially important for non-native French speakers who may struggle with the nuances of the language.
In addition, intercultural workshops offer a unique opportunity to make new friends and expand your social circle. By interacting with people from different backgrounds, you can build relationships based on shared interests and experiences. This can help to create a sense of community and belonging, which is especially important for non-native French speakers who may feel isolated in a new country.
At our French for non-native speakers adult school, we offer a wide range of intercultural workshops designed to meet the needs and interests of our students. Our workshops cover a variety of topics, including cuisine, history, art, and literature. We also offer workshops focused on specific regions of French speaking countries to provide a deeper understanding of the country's diverse cultures.
Our intercultural workshops are led by the students themselves but helped by our pedagogical team which can also present their home regions!
Monthly speaking datings are an excellent way for non-native French learners to practice their language skills in a supportive and engaging environment. These gatherings provide an opportunity for students to meet and interact with French-speaking individuals, learn about French culture, and improve their conversational abilities. Typically, these events are held in a relaxed and informal setting, in our own school but with coffee, tea and biscuits at hand!
The goal of monthly speaking datings is to help students build confidence in their French-speaking abilities and overcome any fears or anxieties they may have about communicating in the language. By interacting with native speakers and other learners, students can practice listening and speaking skills in a supportive and non-judgmental environment.
In addition to improving language skills, these gatherings can be a fun way to learn about French culture and customs. Participants can engage in discussions about topics ranging from French cuisine and fashion to current events and popular culture. Through these conversations, students can gain a deeper understanding and appreciation of the French way of life.
Attending monthly speaking datings can also be a great way to make new friends and expand one's social circle. Students can meet like-minded individuals who share their interest in French language and culture and develop long-lasting relationships. Furthermore, the diversity of the group can help learners discover different regional accents and dialects, which can be a valuable learning experience.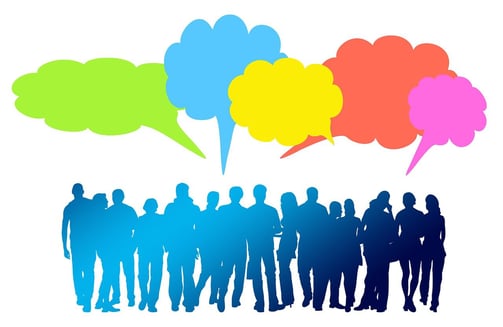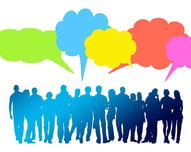 To get the most out of monthly speaking datings, it is important to come prepared with an open mind and a willingness to participate actively. Students should try to speak as much French as possible, even if they make mistakes or struggle with certain aspects of the language. Additionally, it is helpful to come with a list of conversation topics or questions in advance to ensure that there is always something to talk about.
Overall, monthly speaking datings provide a unique and valuable opportunity for non-native French learners to improve their language skills, learn about French culture, make new friends, and have fun. By attending these gatherings on a regular basis, students can build confidence in their speaking abilities and develop a deeper appreciation for the language and its rich history. Whether one is just starting to learn French or is already an advanced learner, monthly speaking datings are an excellent way to take one's language skills to the next level. Everybody is welcome, come along with friends!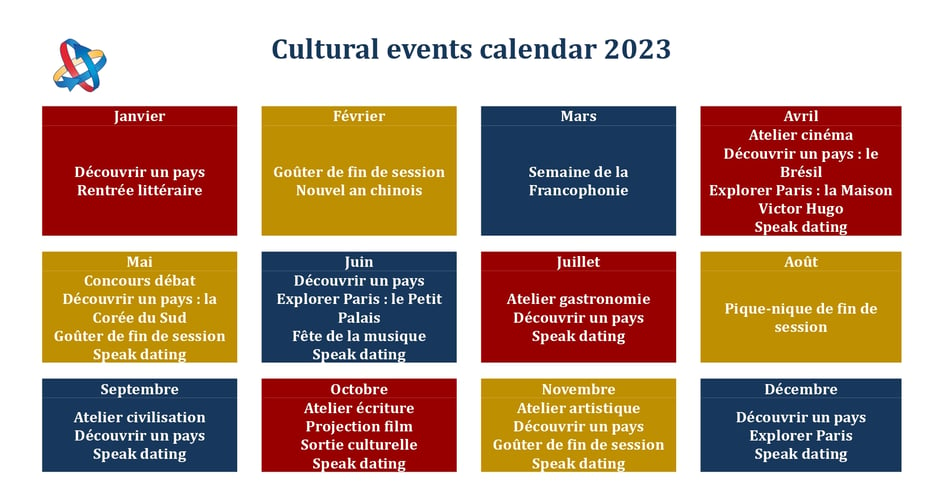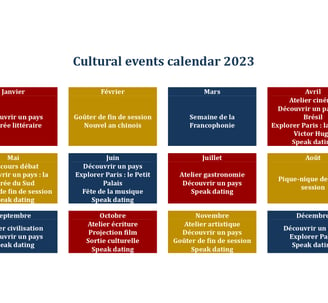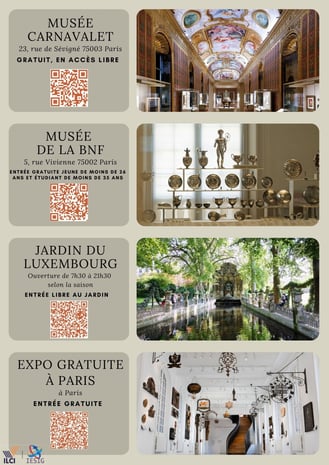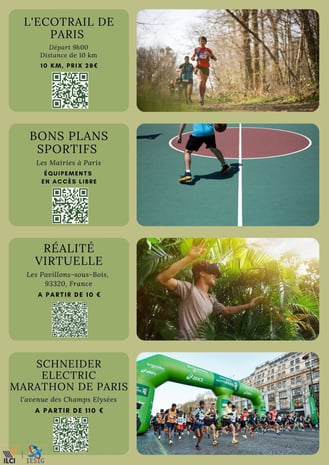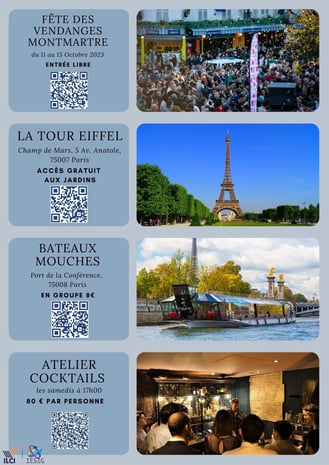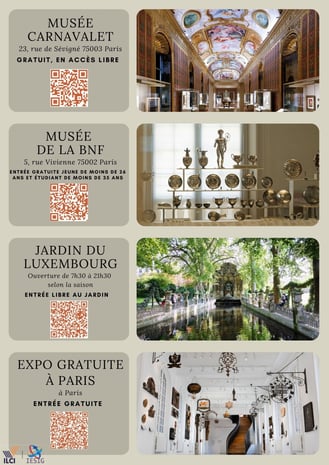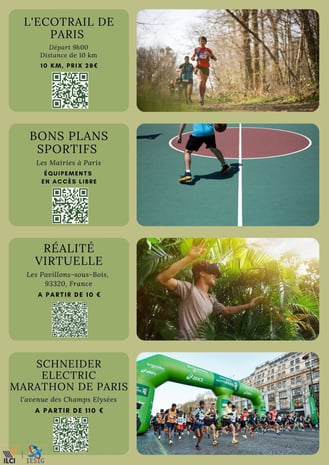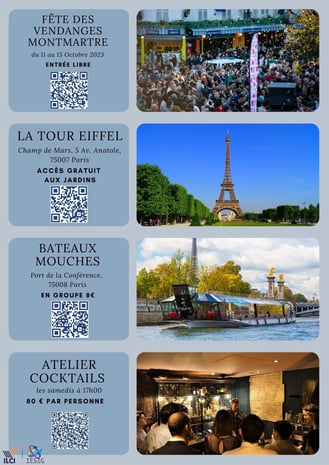 Cultural, sports and touristic tips


Paris is not only a magnificent city but also a very dynamic one. Here is a selection of our favorite places and events to see or do in our dear capital.
There are many Language exchange opportunities in Paris. In addition to our monthly meetings allowing you to express yourself as much as possible in French, we would like to share with you a small non-exhaustive list of good addresses.
It is an opportunity to develop your language skills in a friendly atmosphere. Here are a few tips and partners no matter what your native language is!
Via the
Meetup
app, you can find compatriots and participate in gatherings with interlocutors of your native language. For example, every Saturday at 4:30 p.m., Koreans meet French people to discuss this diverse and varied subject.
Same principle for meetings with native Japanese speakers.
Linguistic exchanges also take place via Tandem and Hellotalk, with times and meeting places to be defined between participants.

Finally, the Franco-Ukrainian association TRYZYB brings together Francophones and Ukrainians in the context of various events.